The "July 20-22, New England Dragway Divisional" has been circled on the schedule from the beginning of the season. As a matter of fact it is every year; this one just seems to mean more. Mainly because it's our closest race and I usually have a lot of Family and Friends come and watch.  This year it happens to also mark the halfway point of the season. As most of you know from reading my previous blogs we have had our fair share of struggles this season but for the first time we came into this race feeling confident, with our stuff together and ready, or so we thought.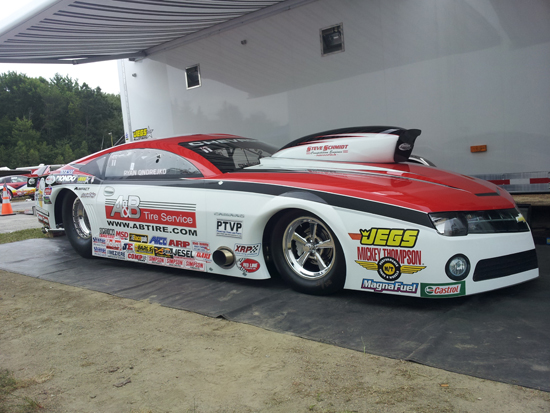 I spent most of my time leading up to the event by working on sponsorship materials. Whether it was sending out new proposals to businesses in the area or making the decals for the current sponsors we already secured. I usually make the logos on the computer and then super-impose them on the car, email it to the sponsor for the "OK" then send them out to be printed. The company I use for decals is Tough Girl Designs, which is owned by my friend, Pro Stock Motorcycle racer Katie Sullivan; if anyone needs decal work please give her a shot! (www.toughgirldesigns.com)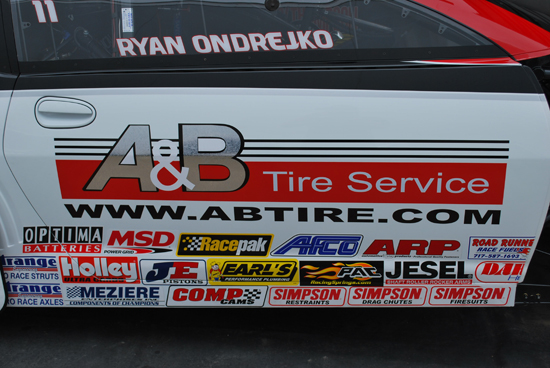 Thursday arrives and per the usual deal, my father arrived at the track a day before me. He unloaded the car, swapped the tires from side to side, cleaned the wheel tubs, checked the oil filter, installed the new sponsor decals and went through Tech. Yeah, he's pretty much superman. When I arrived Thursday night he was tucked away in bed resting from the hard day's work. Surprisingly there was no one else with him yet. If you have watched my team on the starting line you will know why this is weird. This is the closest race to home and not one of our 1000 crew members was here yet? I was lost, didn't know what to do with myself. Usually I'm greeted by the guys and we spend some time catching up. This was a blessing in disguise as I got to go to bed nice and early; and boy I'm glad that I did because the rest of the weekend was Hectic with a capital "H."
Friday Morning comes and we do our standard procedure, warm the car up and get it ready to go. Hoss was the first crewmember to get there and showed up just before our first run at 11:30am. Here is a video of the first qualifying pass:
We went 6.759 @ 206.20 which was great but did you notice anything weird? Well if you're thinking it didn't go very straight you would be correct. The air at New England Dragway was over 2500ft better than in Chicago and that means the car was probably making an additional 200 horsepower! This causes the natural torque of the engine to be greater which will drive the car to the left. Just to make sure this wasn't just a fluke we didn't change anything for Q2. Sure enough it went to the Left again. Four-link adjustments needed to be made and after a team discussion my Father made them. We wouldn't find out if they were the right adjustments until Saturday which was our 3rd and final Qualifying pass.
Everyone knew Saturday was the best day to come to watch so I had a lot of stuff to do in the morning, like giving last minute directions, getting tickets, and escorting people to our location via race track transportation, also known as the golf cart. One of the more exciting things I had going on this weekend was a local media outlet was sending someone to take pictures of my team and document the event.
I was very skeptical of this "Photographer" that was coming mainly because I didn't know what to expect. I didn't know if whoever they sent was going to need me to hold their hand and take up a lot of my time. I definitely didn't need that during this event.
Enter "David Gordon", probably the most relaxed down to earth guy I have ever met. From the second I picked him up on the golf cart, with his well-worn in jeans and flip flops, I knew I had nothing to worry about. We hit it off as if we had been friends for years. Turns out he was just as skeptical as I was about doing this event. It was his first drag race ever! He went on to explain to me his background and some of the crazy events he has had to "capture." To make a long story short, even though he shadowed me all day I never felt awkward or stressed one time. I definitely have to thank him for the great job he did throughout the day. I cannot wait to see the article and all the pictures he took.
The rest of the morning was much of the same, driving out to the gate, escorting family and friends to the trailer and making sure everyone had a cold drink in their hands, food in their mouths, a Ryan Ondrejko T-shirt on and a Smile on their faces! Once all that was completed it was time to focus on the final qualifying pass.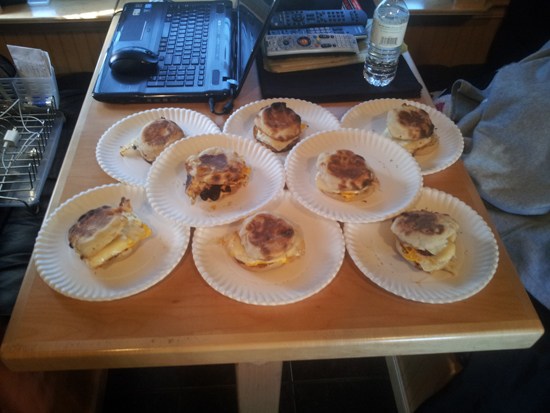 Our last two crew guys, Mark Monroe and Mark Wiktorowski were all in attendance for Q3. It's always calming to know we have an extra couple sets of eyes on everything. They may not think they do a lot, but making me feel safe and at ease and doing some of the miscellaneous odds and ends is enough in my book. Thanks Guys!
Saturday was much warmer so we were expecting our final pass to be slower and a good straight pass was all we were looking for. Sure enough I let the transbrake button go and my father had me on a rail. We went 6.799 @ 205.88mph. SUCCESS!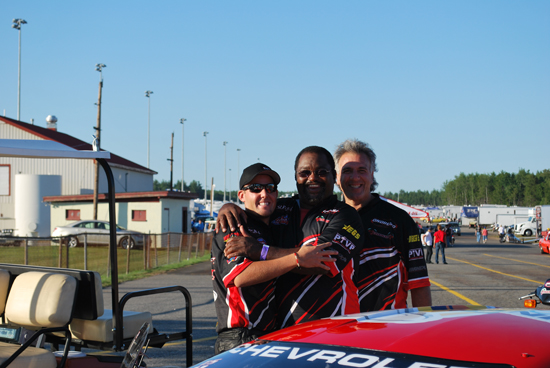 As the schedule read, we were to have Round #1 & #2 on Saturday night at 6pm and 8pm. This is always great at New England Dragway because they draw a ton of people to the event and it brings the best out of everyone. It is also one of the safest and smoothest surfaces on the circuit. If you pull to the line and don't have butterflies in your stomach when you look out at all the fans then you're not human.
Round One slated us against Al Campbell. Al and I have had our fair share of battles in the past. He is a good, experienced racer who could easily put me on the trailer in front of all these people. I was focused and ready for him. He was also ready for me, a little too ready however and left the line too soon and lit the red-light. We ran it flat out to a 6.78 on our 6.77 dial. We were pleased.
Round Two was a great matchup, Fred Perkins III. Fred won the last Divisional in New York and was riding a wave of 6 round wins in a row. Fred and I aren't the type of friends that hangout away from racing but when we are at the track we are about as cool as you can be with a fellow competitor. We love jawing back and forth and it's a lot of fun. I have shared a lot of information and strategies of mine with Fred and most people would say I am stupid to do so. But my response to that is "Hey, you've still got to execute them. I'm only giving him half of the puzzle. " Needless to say this was going to be a FUN race!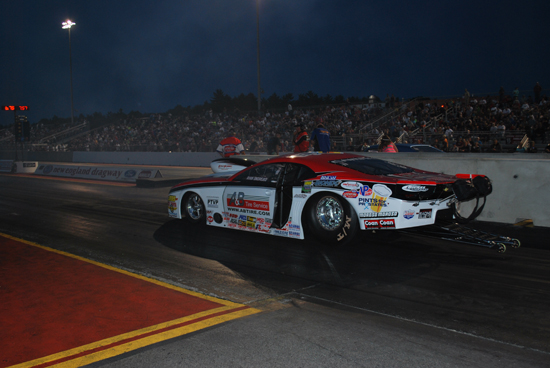 As predicted, we rounded the corner and pulled into the water box, I look out and there are a ton of people and flashbulbs. Here come the butterflies. I needed to push them aside for 6 seconds. I take my three deep breaths and let go of the transbrake. Both of us were clean and green. I say to myself "He must have been late", because I caught him by 1000ft and was able to pace him down from there to take the win. That was a big win because he was ahead of us in the points standings.
Anytime you can survive until the final day is reason to celebrate. My family, friends, Crew and I spent the rest of the night enjoying the show which included some really cool Jet Cars, Wheel Standers and a great display of Fireworks.
Sunday - Round Three was against the fastest driver in the class, Angela Ray and her 230mph Mustang. Although Angela is young she has been racing a long time at New England Dragway and is a very good driver. Anyone who can handle a low six second 230mph car is bad to the bone in my eyes. We knew right from the get-go this was going to be a tough draw for us, mainly because being chased by someone going 25mph faster than you completely removes my ability to drive the finish line away. It's like a role reversal. I am used to chasing people down and now I'm the one being chased and this new Camaro has ZERO visibility. We needed to dial honest.
The weather on Sunday was warmer. My weather station said it was about 500ft worse than Saturday. Normal thinking would mean that our 6.799 on Q3 would be a 6.82 today in this weather. We put a 6.81 on the window and I figured we could run it flat out and we would be fine, without taking a chance of breaking out. We both take off clean and green and I get to 1000ft and I don't "hear" her coming so I start to pedal the gas. I think the computer showed 4 "whomps". I go through the finish line and the win light does not come on. I think to myself, "man she did come screaming by me" but I know she didn't pass me until after the stripe. Then the dreadful sound comes through my earphones. "She got you bud, her 6.38 beats your 6.79…"
"6.79!!! Are you kidding me?" Apparently something in the air was a little faster than we thought. We got to the stripe 5 hundredths ahead of her and went to fast. We can add that to the long list in the experience column.
So just about the time you think you have everything you need, that's when you need mirrors on your racecar! I can assure you that we will have them on before the next race!
She eventually went on to win the event, capturing her first Top Sportsman Wally. I give her and the whole crew a lot of credit. Taking a 230mph car from #1 Qualifier to the winner circle doesn't happen often. Congratulations to them.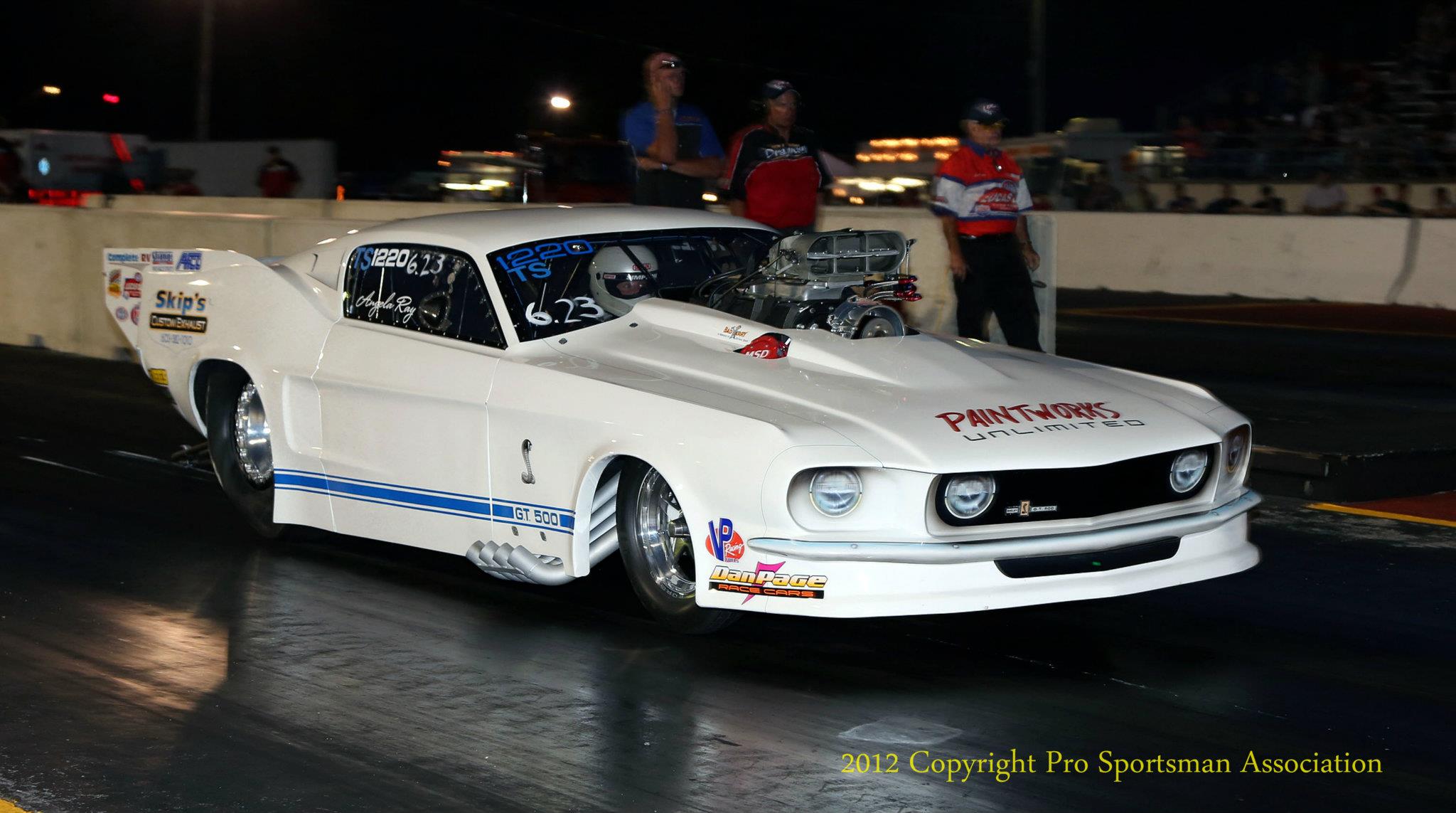 I have a long list of people to thank for coming and supporting me this weekend; if I forget your name please don't disown me.
My Family and Friends : Mom, Auntie Sandra, Auntie Paula, Uncle Gary, Uncle Chris, Lee Roby, Paula, Hoss Giannetti, Mark Monroe, Mark Wiktorowski, Mike Sullivan, Bob Armstrong, Tim, Allie, G-Man, Peter Neal, Peter Neal Jr, Greg Barsamian, Mick Smallridge, Danny Martel, Bernie Farrell, Bob Crowley, Paul Zona, Paul Wilson, Phil & Simone Dembrowski, Ashley Brayden, Rich Brayden, Mary-Ann Brayden, David Gordon & Tony Giannetti.
My Junior Fan Club: Ashley Sullivan, Nicole Sullivan, Bella Ciulla, Emily Nelson & Abigail Gray (thanks for the lucky wristband girls!)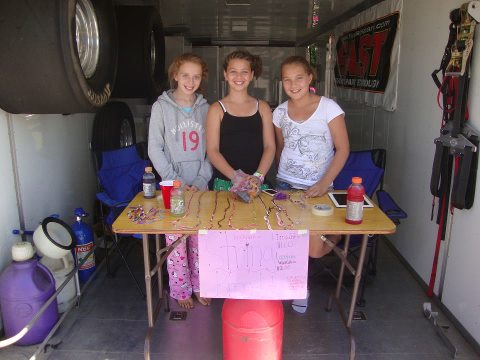 Sponsors: A&B Tire Services, Steve Schmidt Racing Engines, Jegs, Mickey Thompson, Biondo Racing Products, & Primetime Photo and Video
I also want to recognize the amazing facility that New England Dragway is. This place just keeps getting better. I cannot wait for the National Event that is being held there next July. Kudos to all that are involved especially our good friends Paul Lorenti, Steve George and Joe & Nancy Lombardo!
As for the team, we are taking a weekend off before we head to Atco, NJ on August 4-6 for race #5 of 9.
Thanks for Reading,
Ryan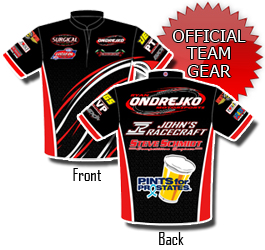 Get your 2012 team gear today!
-------------------------------------------------


Maple Grove Divisional Entry
May 27, 2012
I left off my last blog with us sending our engine back to Steve Schmidt. They received the engine and my whole team was anxious to hear what had happened and how bad the damage was.

-------------------------------------------------

Ryan Ondrejko Motorsports utilizes all the major social networking platforms to connect with their fans. Keep up to date on the inside scoop! Link to us on Facebook, Twitter, Linked In and NHRA.com by clicking the links below.

-------------------------------------------------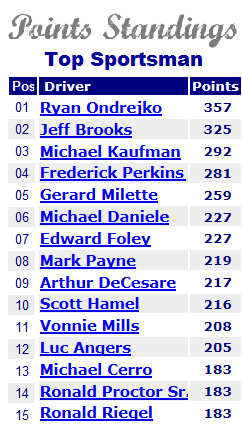 -------------------------------------------------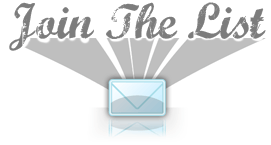 Ryan Ondrejko Motorsports invites you to join their e-mail list! Register today for special updates and a chance to win an autographed team jersey! Click Here