I ended my last blog with My Father, Hoss, and Mark Monroe driving from Lebanon Valley to Steve Schmidt's Shop in Indianapolis. The reason they were going to Schmidt's was because it was conveniently on the way to Chicago and we were going to swap our current 760 for the 790 that we hurt in Virginia. The engine was going to be dyno tested on Monday and installed in the car on Monday Night. To say the least, when they arrived the engine was not quite complete.
Obstacle #1 – Engine Not Ready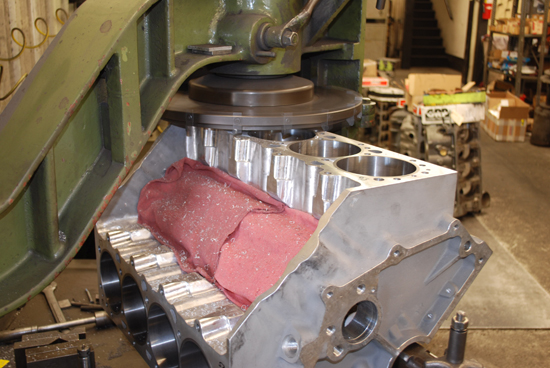 Machining the block went rather quickly. Before they knew it the block was being thoroughly washed for the "final assembly." Once in the room for final assembly the crew figured they were about 2-3 hours from completion. This of course was based on the Cam Shaft fitting in the block.
Obstacle #2 – Camshaft does not fit properly in the block
A big cloud of silence hung over the room. Although the Engine block was spec'd out for a certain camshaft, it did not arrive with the correct Cam bore. Luckily at Schmidt's they have everything imaginable for equipment, including a Cam Boring machine so they were able to work past this issue. This was not a quick fix. The machine cuts very slowly at an average of about 2 inches per hour! Every 5 inches you have to move the cutter, re-align the block and then continue. The whole process took about 8 hours on Tuesday.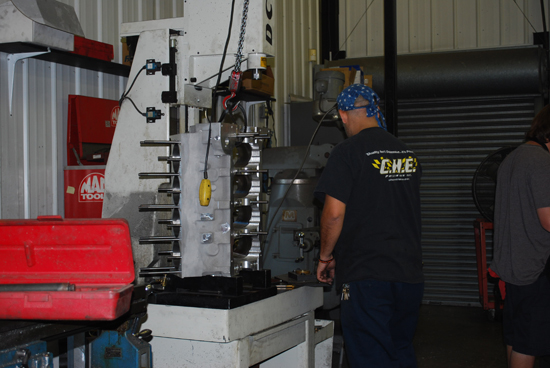 This whole time My Father and crew were going out of their minds. They were hoping to be on the road by Monday night and now it's Tuesday night. The engine still not assembled, they couldn't do anything with the race car because if they didn't get the 790 done in time, or something happened to it on the Dyno, we would need to race the 760. So finally after two days of observing at Schmidt's shop Wednesday morning rolls in. The guys were up bright and early unloading the race car, removing the 760, and getting the hood scoop and lines prepped for the new 790.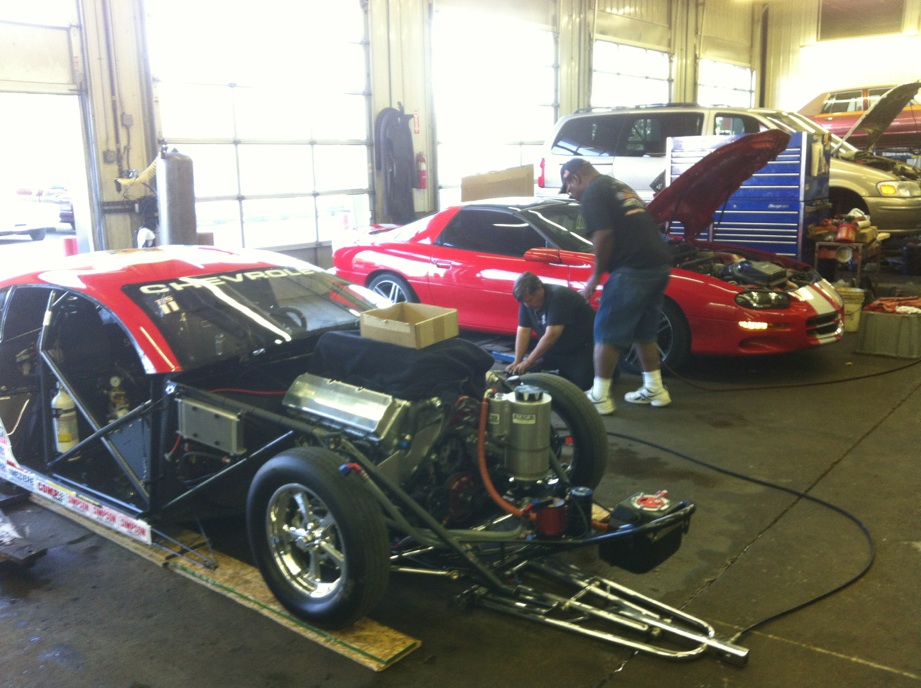 Schmidt's guys began the "Final Assembly" and before we knew it they were rolling it into the Dyno room. This is a bitter sweet feeling; it's hard not to be a pessimist after all that we have gone through already this season. We were just praying nothing else went wrong so we could be on our way to Route 66 Raceway.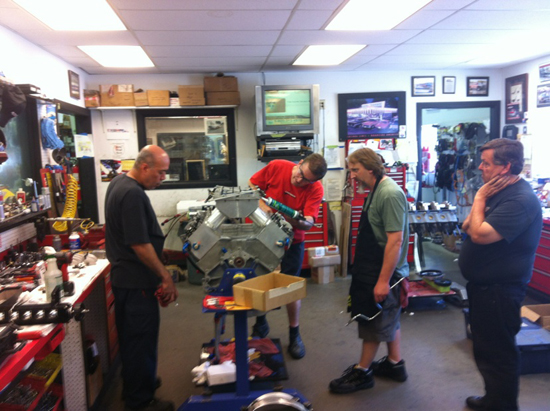 The engine made 4 good pulls on the dyno making about 1700HP. "That should work!" my dad said and into the car it went. The engine oil was still warm when the car was being loaded into the trailer and heading down the road to Chicago.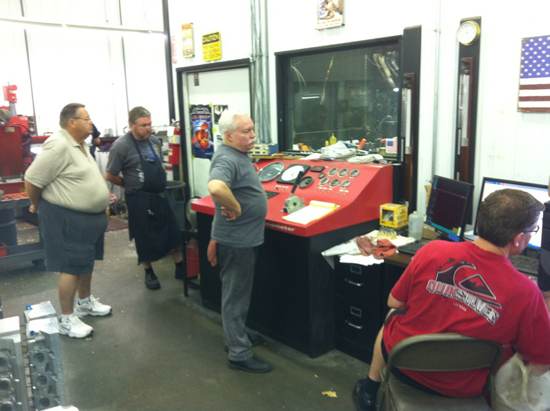 Meanwhile back in Boston, I was finishing up a 3 day work week and jumping on a plane to Joliet. Hoss's son Tony was meeting me at the airport and we were supposed to be picked up by my father Wednesday night at 7:30. As you can tell from the above story this was not going to happen. Knowing they were running behind, Mark Monroe jumped into the Tow vehicle and smoked it from Indianapolis to Chicago and met us at the airport.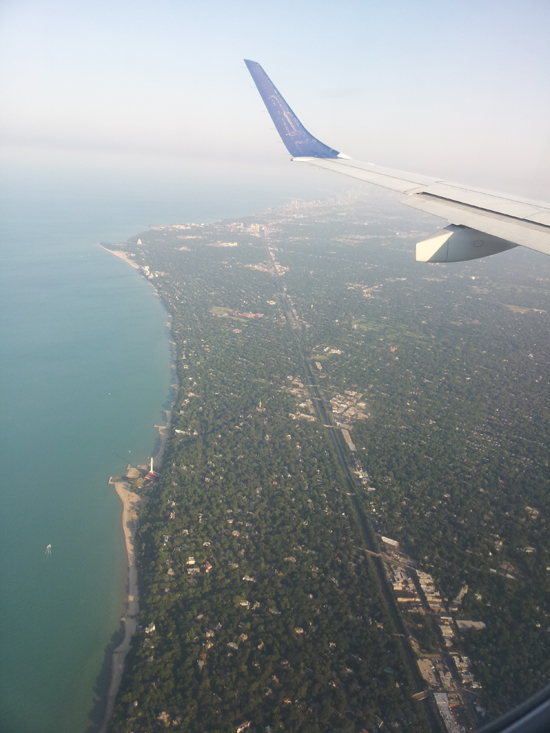 We drove from the airport to the track and the rig was a few hours behind. Parking had closed for the day so while we waited Mark, Tony and I went to a local establishment for some refreshments. The rig arrived at 12am on Thursday morning and we were 5th in line to be parked. Lucky for us the Jegs All Stars have reserved pavement parking so we were able to slide nicely into our spot in the morning.
And that my friends is why they say "Half the fun is getting to the racetrack!"
THE RACE:
Although we were only scheduled for one qualifying run on Thursday it was an extremely busy and brutal day. The weather station read 101 degrees with a heat index of 108. We needed to hustle to get parked, the pit spot setup, Get our credentials and Restricted access passes, final install of the engine and transmission components, bring the car to tech, and warm it up all before our run at 2pm.
Good thing we brought enough fire power. There were 5 of us hustling all morning to get everything done.  The crew did an amazing job and by 12:30pm the car was warmed up, cooled down and on the ground ready for our first run.
With the weather being nasty we knew the car wouldn't throw down any extraordinary numbers. At this point we wanted to make a nice clean pass and get qualified. This is just what we did. We ran a 6.98 @ 200mph. That was good enough to get us qualified in the #2 position.
Obstacle #3 – Headers wouldn't allow for a Spark Plug socket to take the plugs out and the computer graph is saying the cylinders on one side are leaning out going down the track.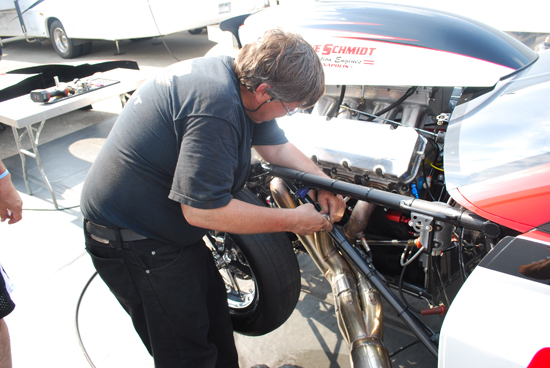 We do all of our normal maintenance and check over the Racepak data and notice a few issues of concern. We call Steve Schmidt and he sends over longtime employee and friend Bob Bailey. Bob utilizes big cubic inch motors from Steve Schmidt in his competition eliminator dragster so he knows how to get them to run at their full potential.
Bob wasn't at our trailer for 5 minutes and he had all of the fuel bowls off, the floats changed, Fuel pressure lowered, the MSD hooked up to the computer and we were tweaking everything.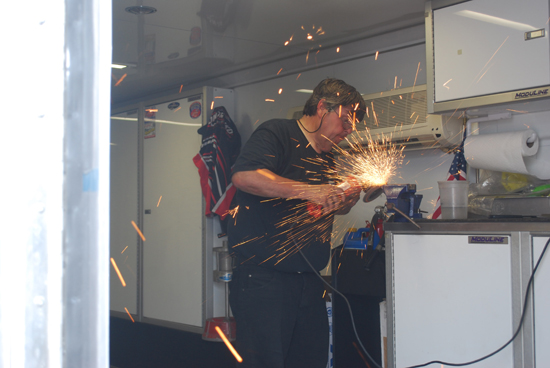 My Father and I were blown away. This thing just came off the dyno a few hours ago making 1700HP and now it's completely changed. As Bob would go on to explain it to us as "The dyno does not equate for G-Forces, when the engine is stationary it acts completely different then when forces are being applied to it." We tightened everything up and he tells us to have at it!
Obstacle #4 – The Weather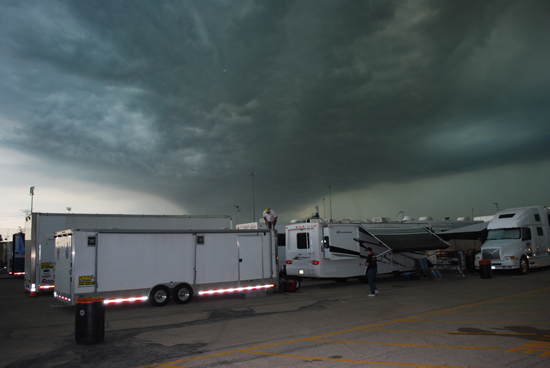 Friday comes along and Mother Nature was having none of this racing stuff. These were some of the nastiest skies I have even laid my eyes on. It looked as if at any moment a funnel cloud would come down and destroy everything in its wake. The only good thing about when it is 100 degrees out is that after it rains the ground is just about instantly dry. The storm came and went, leaving it at a little bit cooler temperature.
With all the changes we made we were once again "hoping" everything we changed would work and we would go a little faster. So we tow up, drop the hammer and trip the beams a whole tenth of a second faster! 6.88 @ 202mph…. Guess that Bob Bailey knows what he is doing. Thanks again Bob!
After the run, while we were doing some maintenance to the car, Chase Huffman from Paintchip Designs and Accelerated Graphics brought over our new T-Shirts! They look really cool! If anyone is interested you can Click Here to order them.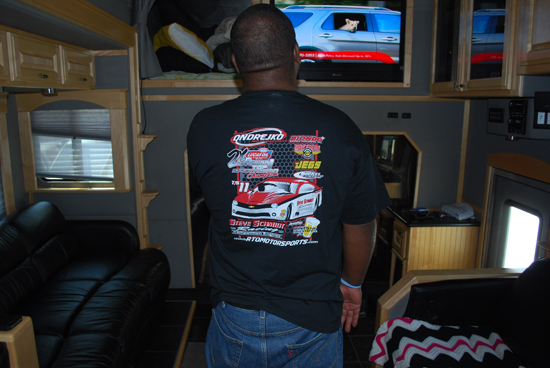 For our third and final qualifying pass we left everything alone. Even though it was only qualifying it was a really neat matchup. We run alongside Mike Coughlin in the Jegs Mail Order Cobalt. Both of our cars are about the same speed.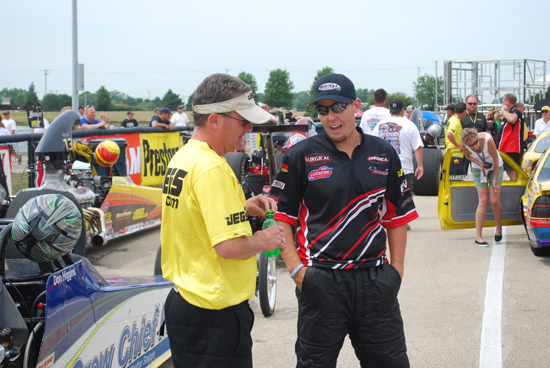 Below is the in car camera from that run. We both had .016 reaction times and both ran 6.9's @ over 202mph! As you can see in the video the car gets a little loose at about 900-1000ft and starts drifting towards the centerline. That was a "Fun" ride!
Friday Night is the Jegs All Stars dinner. All the drivers and crews from every division are under a big circus tent and they announce the pairings and talk about the event. It's always a good time. This year I got a chance to spend some time talking with Jeg Coughlin and thank him for putting on the event and his support of my racing team this year.
After the dinner we watched the remainder of the Top Fuel cars qualify. No matter how long I've been coming to the races, it's still very fun and impressive to watch. Just as the last pair was going down the track the lightning started again, and a major storm rolled through. Awnings were ripping off, paper was flying everywhere. Someone had later said there were 80mph winds! Needless to say we didn't get much sleep that night while we were worrying about getting struck by lightning!
We survived the night and finally Race day is here! We all got dressed up in our new team uniforms and Jegs All Stars hats and took a team photo in our pit spot before heading to driver introductions at the starting line.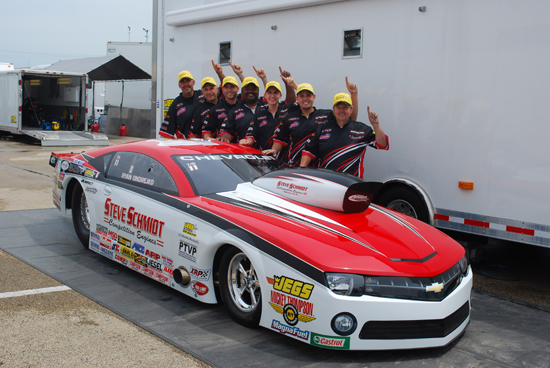 The driver introductions for the Jegs All Stars are really cool. Not only do you get introduced in front of a crowd but you also get together with your team and hype each other up and wish each other luck. After the Intro we went back to get our car and brought it up to get paired.
First round I was paired up against Division 7's Richard Okerman. He runs in the 7.30's with his car that surprisingly doubles as a Super Gas Entry. As I was watching the cars in front of me in the other classes I was getting mixed readings. The guys in Comp and Top Dragster were running their best passes of the weekend yet the weather was the same if not a hair worse. Immediately I think to myself, the track must be really good and maybe there is a tailwind. So many things go through your mind when you are trying to make that critical decision on what to dial the car in at.
Richard dialed a 7.36 which was his best pass of the weekend and we dialed a 6.88 which was our best pass of the weekend. I'm thinking in my head, "This should come down to reaction time, I got this."
Out from the tower we come, burnouts, backup, staged, tree comes down….. Bang he's green and I felt like a crushed it right behind him. Now I'm just getting it nice and straight and looking for my spot on his car…. "Umm I should be catching him by now, yup I should be, but im not….Nope, not going to get there!" So I am forced to push him as far as I can and then I bail letting him take the stripe. Richard was .025 on the tree to my .006, "I had 2 hundredths in the bag how could I not catch him?"
I give him a lot of credit. His car was dialed all weekend. He ran three consecutive 7.36's in a row. And against us he ran a 7.36 on his 7.36 and I was only going to run a 6.90…. There is no good way to lose, and making the wrong decision on a 50/50 decision hurts because you keep telling yourself, "Man, I was so close."
I always take something away from every defeat; something to build on, to make me mentally stronger for next time. After this week of ups and downs I truly believe this quote: "Failure after long perseverance is much grander than never to have strived enough to be called a failure."
With this being said I have to thank all of my crew, They give their all every weekend for this team. They truly stand by my side through thick and thin. Through perseverance we will be back in the winner circle. This weekends crew included: John Ondrejko, Steven "Hoss" Giannetti, Mark Monroe, and Tony Giannetti. Thank you all.
Great friends that made the trip to support us included Peter Neal and Peter Neal Jr. Thank you for your support!
Along with Steve Schmidt Racing Engines, Mickey Thompson Tires, Jegs, Biondo Racing Products, Primetime Video & Photo, A&B Tire there was also a company that helped us on our way to Chicago, Powrpoint Generator Services. I cannot thank all of my sponsors enough. They are the reason we are able to compete at this high level.

Our next race is at New England Dragway on July 20-22.

Thanks for Reading,
Ryan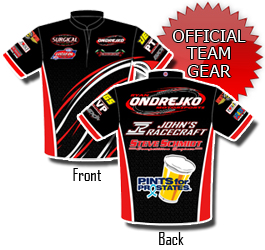 Get your 2012 team gear today!
-------------------------------------------------


Maple Grove Divisional Entry
May 27, 2012
I left off my last blog with us sending our engine back to Steve Schmidt. They received the engine and my whole team was anxious to hear what had happened and how bad the damage was.

-------------------------------------------------

Ryan Ondrejko Motorsports utilizes all the major social networking platforms to connect with their fans. Keep up to date on the inside scoop! Link to us on Facebook, Twitter, Linked In and NHRA.com by clicking the links below.

-------------------------------------------------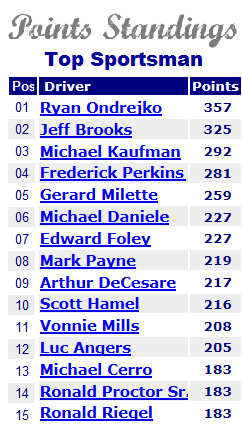 -------------------------------------------------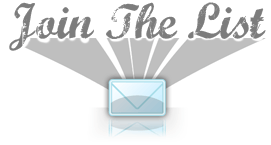 Ryan Ondrejko Motorsports invites you to join their e-mail list! Register today for special updates and a chance to win an autographed team jersey! Click Here