With the conclusion of the 2011 Racing Season Ryan Ondrejko Motorsports was on the ultimate high, winning the 2011 NHRA Division 1 Top Sportsman Championship. Little time was spent celebrating before the realities of the 2012 season were upon them. Searching for sponsors for the upcoming season and joining the fight against prostate cancer with Pints for Prostates occupied only some of the off season. The priority…..a brand new 2012 Chevy Camaro.
The new ride is Built by Jerry Bickel Race Cars, it sports a 792 Cubic Inch Steve Schmidt Racing Engine that puts out excess of 1650 Horsepower. All this power is transferred through a Coan Racing Transmission and a Select Performance Converter. Keeping it stuck to the ground is its Mickey Thompson Wheels and Tires. The Digital Components in the car are Biondo Racing Mega 450 Delay Box, a Racepak computer and a MSD Ignition.
The debut of the new ride will be at the NHRA Division 1 race to be held in Virginia April 20-22, 2012. Driver Ryan Ondrejko is excited about his new ride and the prospects for the new season. When asked what he thought of the new car, "it's a dream come true, this new Camaro has come out exactly how I pictured it, everyone involved has done a fantastic job from GOS motorsports graphics creating the rendering based off of my design to Jerry Bickel and his employees spending extra time on the car to make sure we are able to make it to the first race of the seaon in Virginia. I'm truely blessed to be in this situation."
Ryan's outlook on the 2012 season is positive but reserved. When asked if he thinks his team will be able to back up the 2011 championship this year, he said, "I approach it like we do with everything, one round at a time. To win a championship against the drivers in this division is extremely difficult, anyone can put you on the trailer at anytime. Adding the new car, engine and components to that task may come with a learning curve, if we can get off to a good start we will do just fine."
Sponsorship being a big issue this season, Ryan spoke honestly, "Obviously, we can't do this alone and sponsorship is a big issue. We have struggled all off season to find suitable partners for our operation. We dont just want to slap anyones name on the side, we want to be able to represent them well. This will ensure a long standing relationship which will benefit both parties in the long run. I have to thank my associate sponsors for helping us bring this new camaro together. Without the support of Steve Schmidt Racing Engines, Mickey Thompson, Jegs, and Biondo Racing Products this would not be possible."
Our Boston-based operation is top-notch, state of the art but with today's hard economic times, we feel the pinch. Sponsors are always a must when one is trying to defend a championship and run a competitive operation." Ryan Ondrejko Motorsports is offering the opportunity this year for individuals to become part of the team as well as businesses. "
Anyone who is involved with motorsports as a fan has a dream of being part of a team. We offer that opportunity to individuals to have a hand in winning. In today's world of fantasy racing, we took it one step further and offer fans a chance to have a hand in the real thing. Find out more on how you can get on board for the 2012 racing season by contacting us by clicking here.
Thanks for reading,
Marketing Department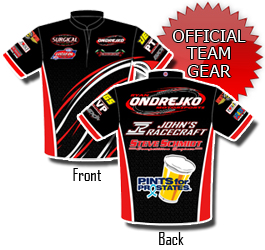 Get your 2012 team gear today!
-------------------------------------------------


Maple Grove Divisional Entry
May 27, 2012
I left off my last blog with us sending our engine back to Steve Schmidt. They received the engine and my whole team was anxious to hear what had happened and how bad the damage was.

-------------------------------------------------

Ryan Ondrejko Motorsports utilizes all the major social networking platforms to connect with their fans. Keep up to date on the inside scoop! Link to us on Facebook, Twitter, Linked In and NHRA.com by clicking the links below.

-------------------------------------------------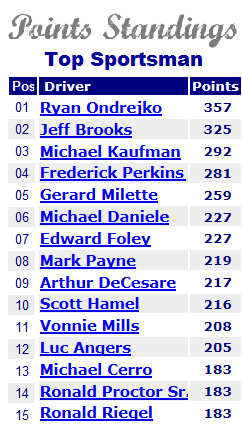 -------------------------------------------------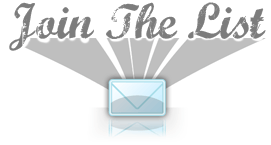 Ryan Ondrejko Motorsports invites you to join their e-mail list! Register today for special updates and a chance to win an autographed team jersey! Click Here