Sometimes every once and awhile we all need to take the time to step back at look at the big picture. We need to evaluate why we are doing what we do. Sometimes we tend to take things way to seriously and don't take the time to truly enjoy ourselves. I know personally I sometimes take for granted the amount of stuff I have to be thankful for. Let's face it, just being able to drive my 200mph Camaro is a dream in itself but this is exactly what I am talking about. Is that really the best part? I mean that's definitely what people put up on a pedestal but it really should be more about the little things.
Often overlooked and taken for granted, just being able to spend time with my father, working hand in hand with him, learning from him, are the things I should be most grateful for.
This past weekend in Atco, NJ I got the chance to see all of this clearly for the first time. Most of my Blogs I spend talking about each qualifying run and Elimination Run but for this one I want to let you guys in on all the other aspects of travelling the country with my family and friends.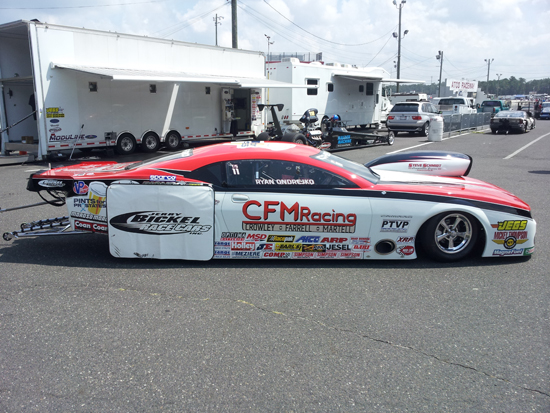 Growing up at the racetrack as a young boy I would ride my bicycle around the pits, socialize and dream of someday being able to race. Because my Father builds race cars for a living I came in contact with all of his customers and friends that raced or that he grew up with. As I grew up around them they all became like Uncles to me. A few in particular are Mike Sullivan, Bob Armstrong, Lee Roby, Peter Neal, Mark Monroe, Paul Lorenti and Hoss Giannetti. These guys have helped shaped me into the person I have become today. Each of them are unique, with their own advice on different subjects. I have always been proud of my ability to filter out the good advice from bad advice and use little bits from each of their thoughts, opinions, mistakes etc. They will be the first to tell you that they are not perfect but for every mistake they have made they have learned from it and in turn have shared with me their experiences. This information is priceless and without all of them I'm not sure I would be the person I am today. 
With that being said, the week leading up to Atco was a race at New England Dragway, over dinner one night Mike Sullivan, My father and myself discussed the option of Mike putting his car in our trailer to go to Atco which was the following weekend. Personally I got excited, never mind the financial benefit for everyone involved, the fact there are two entries out of one trailer will double the chance of the team coming away with a Wally.
The plan was that my Father, Mark Monroe and Hoss Giannetti would leave on Wednesday morning with the Rig and Mike Sullivan, Mark Bishoff and I would leave in my car on Thursday after everyone was done with their daily activities.
Mike, Mark and I discuss how everyone is going to get to my house and I tell them that I cannot leave until after my basketball game is over at 8. Mike tells me that he will be at my house at 6:30pm and he will come and support me at my basketball game and then we will leave from there. I called mark and told him the plan and he was on board. I was happy that they were coming to watch, I always seem to play better when there is something to prove!
The game couldn't have gone better. We were playing a very tough team that we hadn't beat in a few years and we ended up pulling out a big 15 point victory. I played a good game and hit all my free throws which Mike and I were practicing beforehand; it must have been something he taught me!
After the game we hit the road for our 6 hour trek to Atco Raceway. We left at about 8pm so we weren't going to arrive until about 2am. Did I mention that I play golf as well? Well I had convinced the crew to go golfing at 6am on Friday morning because we didn't have a qualifying run until 4pm. This decision was looking less and less smart as we hit more and more traffic on the way down to Atco. Needless to say we arrived at the track and got into bed at about 3am and the alarm to go golfing went off at 5:30am. Bottom line was that they weren't happy with me.   
Being the good sports that they are, Mike and Hoss got up at the crack of dawn and went golfing with me. Hoss has been golfing since he was 17 but not a lot, I started last year and this would be mikes FIRST attempt at golf. This ought to be a long morning! You should have witnessed the three of us out on the course, laughing like little boys as we ripped up chunks of turf with every stroke. See the video below for a good laugh!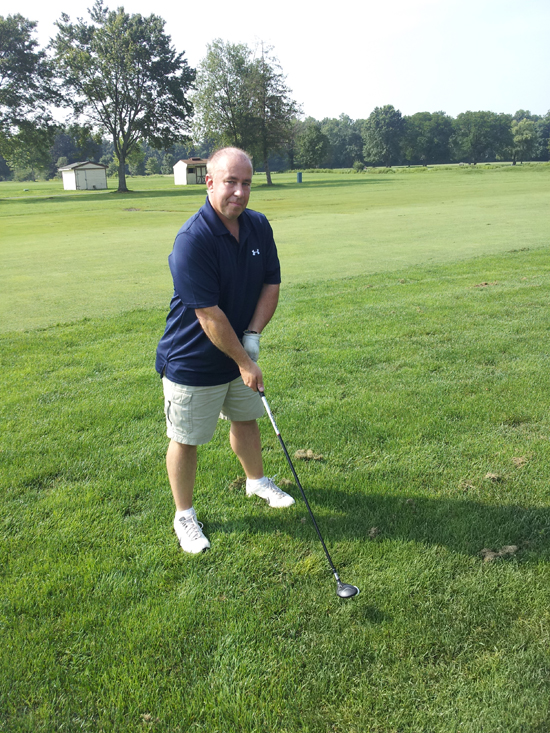 All in all it was a lot of fun. Hoss scored a 117, Mike scored a 109 and I shot an 88. All this fun and we haven't even taken the cars out of the trailer yet! I have a feeling this is going to become a ritual at every race.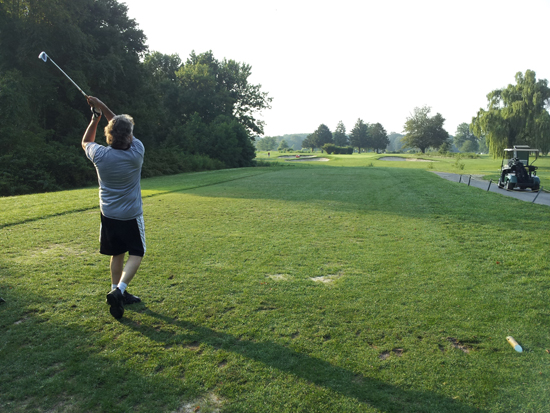 We got back to the track with plenty of time to spare before qualifying. As a matter of fact there was even enough time that we could all take a much needed nap.
After three sessions of qualifying the team was looking pretty good. Mike was qualified #23 of 32 at 6.97 @ 192mph, I was qualified #5 of 27 at 6.83 @ 203mph, Bob Armstrong and Lee Roby also made 3 consistent runs in Super Comp.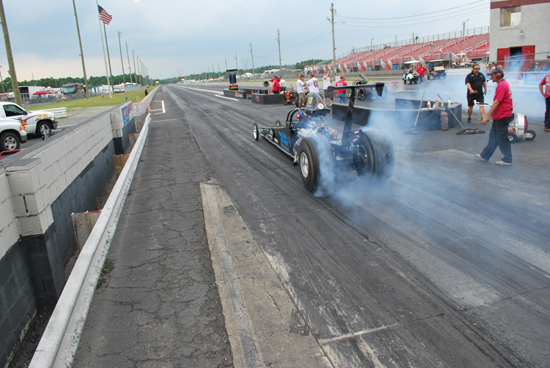 The entire race was going to be run on Saturday due to threatening storms for Sunday. My first round matchup was against Ron Reigel. Every time Ronnie and I race it is an absolute dogfight. If we have raced 5 times, the average light and margin of victory have been less than 10 thousandths of a second every time. Was this going to be any different? Well let's just say both of our cars showed up for that matchup as we both ran dead on our dial in's. The drivers on the other hand, not so much. Ron had a .003 reaction time and ran dead on his dial with a .003 difference making it near impossible to win. As they say "I was dead on and in the way." It's not often you see a package put together like that in Top Sportsman but he did it and he got the much deserved win. Better luck next time!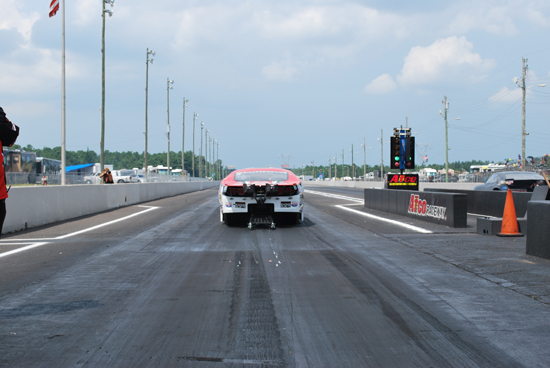 That left us with three team cars remaining, Mike Sullivan, Bob Armstrong and Lee Roby. I quickly shook off the loss and went into "Crew" mode. Bob and Lee are self-sufficient, running out of their own trailers, but Mike was in our trailer and I was going to do anything I could to help him.
Mike was driving like a man possessed all weekend. His first three reaction times were .010, .011 and .002. He backed those up with .010, .017, .006, .005 and .017. Whoa.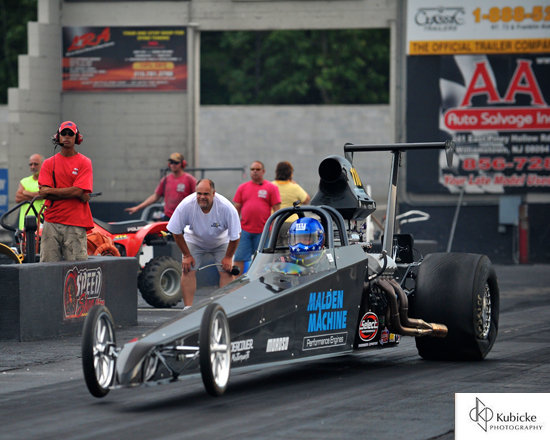 Are you serious? 8 runs and his worst light was a .017. His average light for the weekend was a .009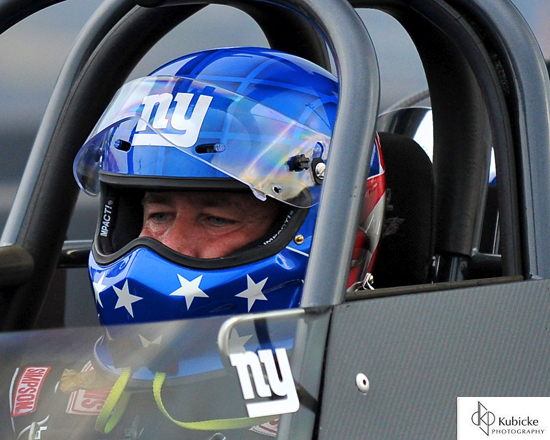 For those of you doing the math that's 3 qualifying runs, 5 rounds of eliminations and a Wally!!!!!!! He did it! His first race travelling with us and he wins the event! He was consistent, the car was consistent and the crew was there to keep him confident, focused and ready. I could not be more excited and happy for someone….. Or could I?
We still had two more team drivers in Super Comp. Unfortunately for Bob Armstrong his weekend ended in the 2nd round when he broke out against Tom Hunter. Lee Roby however was quietly taking down a tough list of competitors making it all the way to the semifinals before I had the chance to realize how far he has gone because I was focused on helping Mike.
Super Comp had more entries so Lee would have to go 7 rounds if he wanted to win. Because there were so many rounds in one day Lee was not prepared to go through 15 gallons of Fuel and in between the quarter finals and semifinals he ran out of fuel! Everyone on the team was scrambling to help him out, I was packing his chutes, he was cooling down the car, my father and Hoss were rounding up some fuel for him. It was literally mass chaos at one point. Somehow we managed to get him to the lanes full of fuel, Chutes packed and race ready!
He drove like a fearless champion. He drives one of the toughest types of cars in the class, a 27 Ford Altered that goes in excess of 170mph and it was pitch black out by this time of the day.
On this night at Atco Raceway, he managed to pull of his first NHRA victory during one of the longest, toughest days of racing I have ever witnessed. I could not be more proud of his resilience and determination.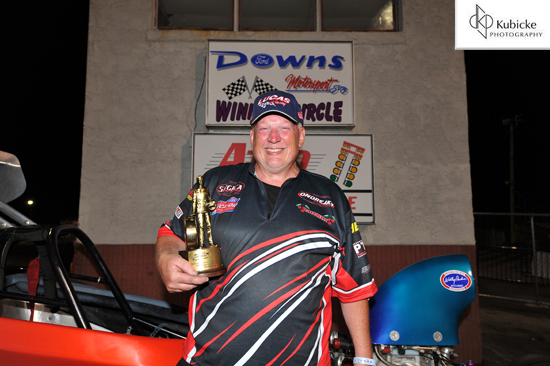 For team Johns Racecraft this weekend will go down as one of the best ever. I couldn't have asked for better teammates and people in my life. Congratulations to Both of you on well-deserved wins.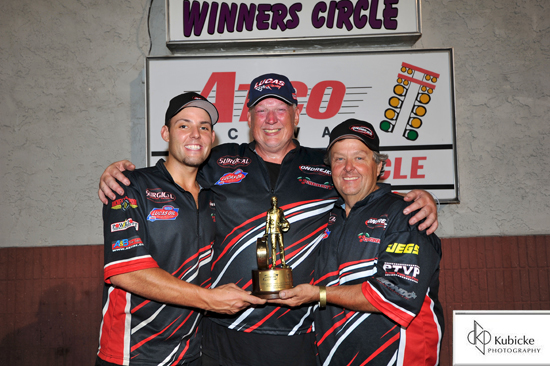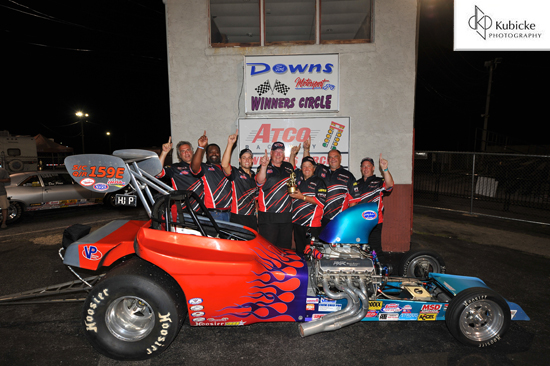 Our next race is Cecil County, Maryland, August 17-19. Stay Tuned.
Thanks for Reading,
Ryan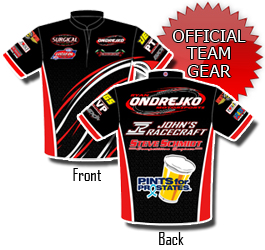 Get your 2012 team gear today!
-------------------------------------------------


Maple Grove Divisional Entry
May 27, 2012
I left off my last blog with us sending our engine back to Steve Schmidt. They received the engine and my whole team was anxious to hear what had happened and how bad the damage was.

-------------------------------------------------

Ryan Ondrejko Motorsports utilizes all the major social networking platforms to connect with their fans. Keep up to date on the inside scoop! Link to us on Facebook, Twitter, Linked In and NHRA.com by clicking the links below.

-------------------------------------------------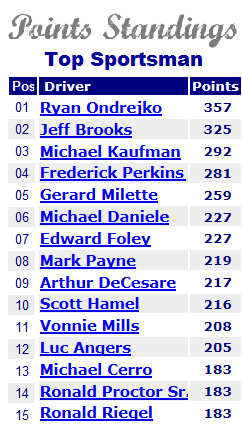 -------------------------------------------------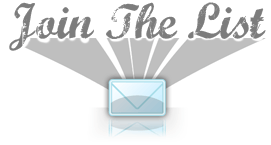 Ryan Ondrejko Motorsports invites you to join their e-mail list! Register today for special updates and a chance to win an autographed team jersey! Click Here