I left off my last blog with us sending our engine back to Steve Schmidt. They received the engine and my whole team was anxious to hear what had happened and how bad the damage was.

After a thorough examination they determined the block had issues at manufacturing and it had alignment problems. A few bearings cocked themselves and spun which starves the crankshaft and rod bearings of oil. When metal parts are spinning at 8000 rpms with no lubrication bad stuff happens. Because of this a few rods broke and swung around and destroyed the inside of the engine block. Basically the news was "Mass destruction and its unrepairable, we will send you your spare 760 back from last year."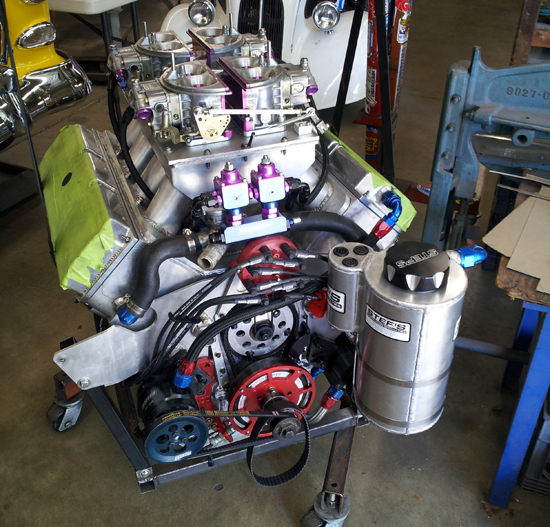 There were two ways to look at this. I try my best to always look at the positives, but it's hard. I just had a taste of running 6.70's so the "adrenaline junkie" in me was bummed that we were going back to our smaller engine. The positive side is that they would have it fresh and ready to go for the Maple Grove divisional and we would be racing. I liked the sound of that!

In typical drag racing fashion this was going to go down at the last minute. They were to finish assembling the engine and put it on the Dyno on Friday. The engine ran on the Dyno Friday at midnight. It was taken off and placed in the back of a truck and on its way to Boston from Indianapolis at 2am. In the mean-time my Father and Hoss started driving from Boston and met the courier in Pennsylvania about halfway. He then turned around and drove all night back to Boston and arrived at 4am Sunday morning. My dad slept for about 3 hours and I met him at the shop at 8am Sunday morning.

The next problem was that the new car was built for the bigger engine. There were modifications to be made. To make a long story short we had to spend all day Sunday until about 8pm modifying the car to accept the 760. My Father and I didn't do this alone. We had help from longtime friend Lee Roby, who is a machinist and helped make some of the new brackets that were needed. Thanks Lee!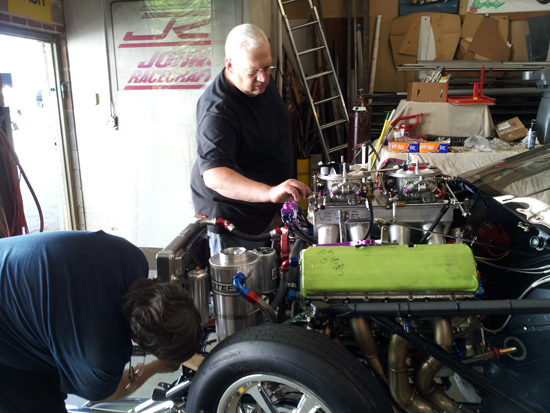 So with the engine installed, we warmed it up, made sure everything was suffice and loaded it into the trailer. My father, Hoss, Mark Monroe and team mascot, Nitro headed southwest on Wednesday morning. I worked on Thursday, picked up my girlfriend Ashley from work and headed south at 7pm Thursday night. We arrived Friday at 1am.
Friday morning arrived and I was as excited as I have been in a long time. The feeling of not being able to compete in Virginia had been eating at me for three weeks. It was finally time for redemption, time to represent my sponsors and team.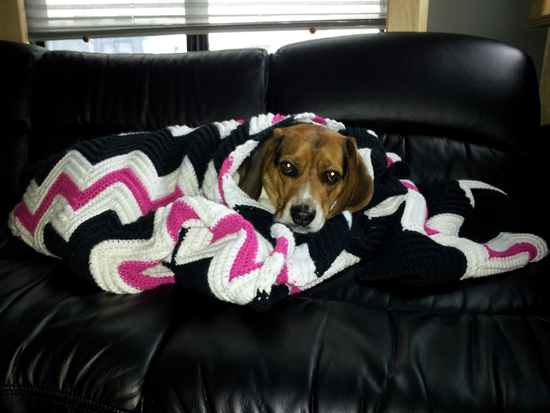 The first two qualifying runs left us scratching our heads. 7.12 @ 195mph and 7.11 @ 195mph. When we took this 760 out at the end of last year we were running 6.80's. What had happened? Then it clicked. In order to make the engine fit in the car we needed to modify the intake manifold to make the engines the same height so the hood scoop would work and we wouldn't have to cut up the body and ruin that nice new paint job. When you cut the manifold down it drastically changes the way the engine responds. In essence it took torque away from the motor. Now we understood why we were running slower. We looked over the spark plugs and made some jetting adjustments and went back out for Q3.

7.100 @ 196mph…..Sounds good to me! After all we are FAST-BRACKET racing so as long as we were qualified we had a shot to win!
We qualified lucky #13 out of 32 cars. Here is a link to the Qualifying sheet.
Here is a summary of Eliminations: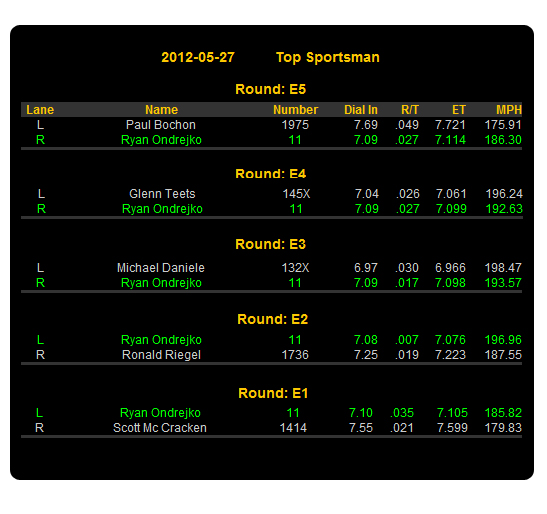 Here is a Video of the Final Round:
We are so grateful for the support we had behind us for this race. Steve Schmidt Racing Engines, Mickey Thompson, JEGS.com, Biondo Racing Products, A&B Tire Service, Powrpoint Generators, TJ Bell Environmental, Olive Garden of Wyomissing PA and Primetime Photo and Video. Thank you all very much!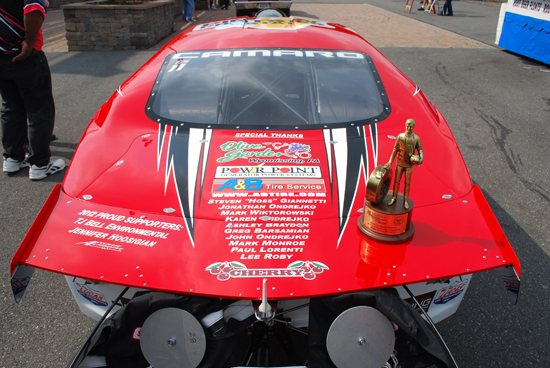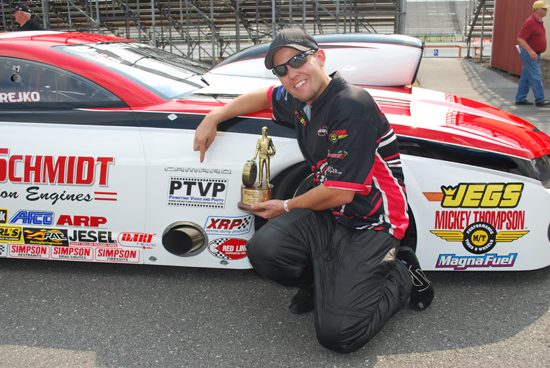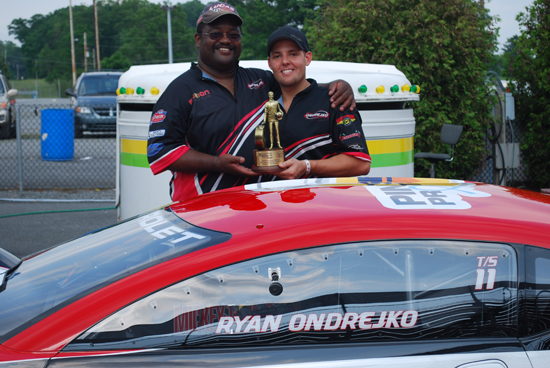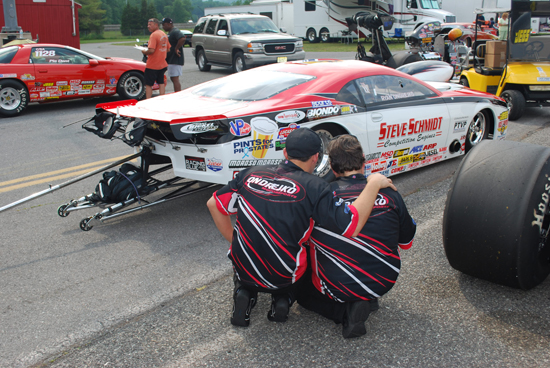 I want to dedicate this win to one of my crew members. Steven "Hoss" Giannetti. I have known Hoss my whole life. He is a great man. This is his first time hoisting a Wally. He deserves it. "Who loves ya man!"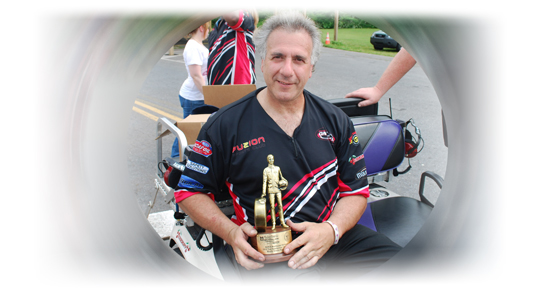 Stay tuned and thanks for reading,
Ryan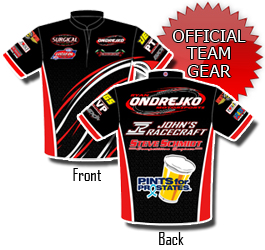 Get your 2012 team gear today!
-------------------------------------------------


Maple Grove Divisional Entry
May 27, 2012
I left off my last blog with us sending our engine back to Steve Schmidt. They received the engine and my whole team was anxious to hear what had happened and how bad the damage was.

-------------------------------------------------

Ryan Ondrejko Motorsports utilizes all the major social networking platforms to connect with their fans. Keep up to date on the inside scoop! Link to us on Facebook, Twitter, Linked In and NHRA.com by clicking the links below.

-------------------------------------------------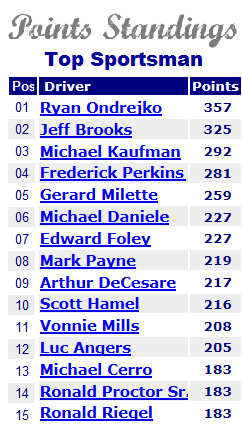 -------------------------------------------------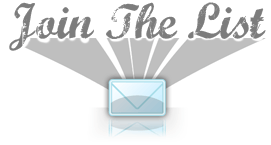 Ryan Ondrejko Motorsports invites you to join their e-mail list! Register today for special updates and a chance to win an autographed team jersey! Click Here